When traveling, many tourists feel pressured to do so many things. This already starts at home, when packing and organizing doesn't stop at the topic travel insurance (check www.andtravelinsurance.com for more info and travel tips). Everyone wants to hit every museum and historic cathedral in sight, feeling like they have to visit these cultural repositories in order to really experience the city they're visiting. But if you spend all your time at the officially sanctioned tourist sites, you'll miss out on the sights and sounds of real life in the cities you're visiting. You can see timely, innovative art alfresco in the unsanctioned graffiti galleries of places like:
Brooklyn, New York – Head to the up-and-coming neighborhood of Williamsburg for a look at some of the latest experimental street art in the Big Apple. From murals to stickers, stencils, and graffiti tags, you're sure to find some fascinating and enigmatic works here. Try Bedford Avenue, Keap Street, and Hope Street first.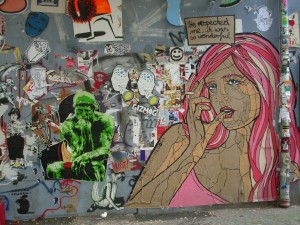 Berlin, Germany – Berlin's Kreuzberg neighborhood has a reputation for punk and alternative lifestyles. The U-Bahn stations are good places to start looking for street art, and you'll also want to see the painted section of the Berlin Wall in Friedrichshain-Kreuzberg. Don't miss the "Spaceman", which is allegedly the biggest stencil in the world.
Paris, France – In Paris, you can actually get guided tours of the graffiti-rich neighborhoods of Belleville and Menilmontant. Some of the artists are quite famous, and you get the feeling this might be on its way to becoming one of those iconic tourist stops you've been trying to avoid…
Valparaiso, Chile – The urban artwork in Valparaiso includes everything from murals to mosaics to installations. Street art is legal and even cultivated here, so the pavements and buildings are host to especially detailed and vibrant works.