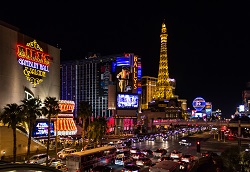 Las Vegas is known throughout the world for having the main 'strip' which is littered with huge hotels with adjoining casinos. Gambling in Las Vegas is one of the main reasons why people go, and you will always see massive crowds around the slot machines and Roulette tables in all of these casinos.
But there is a lot more to Las Vegas than just the casinos. Now they are marketing it much more to the families, so they need to provide plenty of entertainment for the kids, as well as the adults. You can find some amazing adventure parks, zoos and entertainment centers that will keep the kids happy for hours on end.
You also have world class dining and entertainment in abundance throughout the town. There are some amazing restaurants with some of the best chefs in the world cooking up some incredible dishes that you have to see and taste to believe. There are also many world class shows from some of the biggest entertainment stars in the world performing.
If you like to get in some sight-seeing while you are away, then you have to take a trip to the Grand Canyon. If you are really adventurous you can take a helicopter trip above the Canyon, or simple take a hike through some of the tracks that lead you down into the Canyon. A stop at Hoover dam on the way is always a popular thing to do as well.
If you like to play sport, then you have so much there for you in and around Vegas. There are some incredible golf courses that offer a test for players of all levels. To see the lush green manicured fairways set in amongst the arid desert is quite a sight, and most of the courses are in incredible condition and a real pleasure to play.