Karthigai Deepam (pronounced Car-thee-guy) is one festival that is unique to the South Indian state of Tamil Nadu.  It is the festival of lights and bonfires, with glowing lights in thousands of temples across the state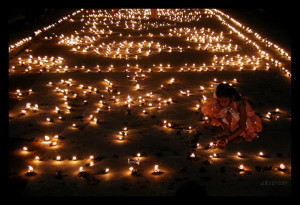 . Also called "Barani Deepam," it is usually celebrated over three days.
Every household is cleaned and the front yards decorated with beautiful, intricate and colorful designs called kolams. As the dusk falls, the ladies of the household light earthen ware lamps filled with sesame oil and flowers. They are placed in distinct patterns according to the tastes of the individual who does the placement. Once night falls, they are a sight to behold!
The festival signifies stepping into the light of knowledge from the darkness of ignorance.  You can check out   Karthikai_Deepam for more information. Many temples have beautifully decorated Gods in their majestic chariots brought out in processions through the local streets for everyone to have a glimpse of the God on this auspicious day, accompanied by the music of drums, pipes and Vedic chants.
It falls usually in the latter half of November or the first half of December and is based upon the Hindu Almanac. People prepare special sweets made from puffed rice and sisters usually receive gifts from their brothers (the new trend is playing at top-rated-online-casinos.co.uk). Whatever the age and status of the sister, from a young girl to a married woman with grandchildren, all the female members of the family receive gifts from their brothers and even cousin's brothers. So it is a real family festival and fun for all!
It is an ideal time to visit India, as the weather is nice and cool; the harsh summers are over and the entire country celebrates a host of festivals around this time!!